It has often been said, You Are What You Think You Are. Whether or not you entirely believe that, it goes without question that the mood you are in, your current state of mind, affects your approach to things, your commitment to the task at hand, and your outcomes.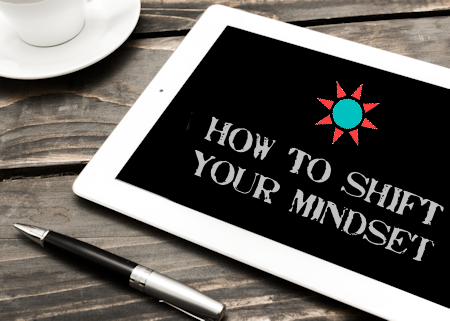 Learning how how shift your mindset, adjust your current thinking and attitude, will give you a more positive approach to your work and, therefore, a stronger likelihood of success.
How to Shift Your Mindset has five main modules of five lessons each (16 lessons), including approximately an hour and ten minutes of power-packed videos (ten in all), and three bonuses as shown below. TIKAL ME courses like this one are designed for self-study and allow you to work at your own pace. You get full, immediate, access to all the lessons, bonuses, and other materials (no dripped content), and you can return again and again as often as you like to review, continue, or repeat your study.
Note also that purchase of this course conveys TIKAL ME Silver Level Lifetime Membership to first-time purchasers, and provides access to the secure membership area of this website, which includes special pricing offers, bonus materials, additional information, and more.
---
Module 1 Lessons
Introduction - It All Starts With Your Mind
Understanding Your Brain – Some Basic Psychology
The Power of Neurotransmitters
Improving Your Mental Health With the Right Food and Sleep
Mindfulness and CBT for Improving Your Mindset
Module 2 Lessons
The New You – Dressing for Success and More
How to Think About Failure and Risk the Healthy Way
How to Know What You Want and Go After It
5 Powerful Exercises for Increasing Your Confidence
A Simple Workout Anyone Can Stick To
Module 3 Lessons
How To Maintain a Positive and Happy Mindset
Shift Your Mindset Checklist
Shift Your Mindset Resource Cheat Sheet
Top Blogs, Forums and Groups
Conclusion and Summary
Module 4 Lessons
Video: You Are What You Think You Are [7:28]
Video: See Your Success Before It Happens [6:42]
Video: Begin With The End In Mind [5:43]
Video: People Can Tell By Looking - How Your Body Language Can Give You Away [8:36]
Video: How To "Reprogram" Your Brain [8:23]
Module 5 Lessons
Video: Birds of a Feather Flock Together [5:35]
Video: Stuff Happens - Get Over it [11:29]
Video: Overcoming Negative Childhood Imprinting [5:57]
Video: Fake It 'Til You Make It [6:08]
Video: One Life For Yourself and One For Your Dreams [5:01]
Course Bonuses
How to Shift Your Mindset: Mind Map
eBook: The Time Commandment
Plus Additional Undisclosed Bonus
---
TIKAL ME Members Login Before Purchasing This Course
One Payment of $47.00