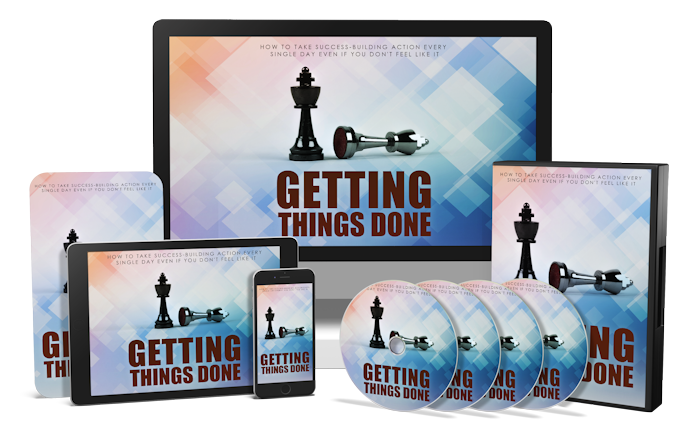 Getting Things Done
This course is a guide that will show you how to conduct truly effective viral marketing campaigns. You can begin seeing results extremely quickly… Within days and sometimes even within hours of getting started. The more you make this a part of your daily life, the better the results you'll get.
It's About Time For You To Learn To
Get Things Done!
Everybody's got potential. In fact, everybody has the potential to become very wealthy.
It's too easy to adopt mindsets that trip you up and sabotage your success on your path to optimal effectiveness.
Success is a habit. Even if you are dealt a lousy hand and you are dealing with an almost impossible situation complete with toxic people, you can still pull out a victory.
Dear Friend,

I've got some bad news for you:

The world doesn't care about your plans. Seriously. You may have all sorts of ideas, you may be excited about your grand visions, but let me tell you, nothing will come of any of these unless and until you take action.

You have to understand that the world only cares about one thing and one thing alone: results.

Everything else doesn't matter.
Sadly, most people fail to take action on the big things... because they are having a tough time with the small stuff.
If you're like most people, you can't even manage to take care of these small things, so you can free up enough time for the things that truly matter... This is why you struggle. Your big dreams remain as distant as ever because you're just so caught up with the small stuff in the here and now.
If you are sick and tired of living far below your fullest potential, listen up.
With this course:
You are going to become a more effective person.
You will learn to identify the mindsets that crush personal effectiveness.
You will understand that the world rewards action right here, right now.
You can begin to understand that results are only possible when you take action.
You are going to learn exactly how to free up enough time and motivation for the big projects that will move your life forward.
To make it easy, I've put together a step-by-step guide that will show you exactly how it's done...
Introducing...
Getting Things Done
Regular Price: $19.97


Lifetime Membership Included With First Course Purchase
Special Pricing & Other Bonuses Included With Membership
Existing members please login before subscribing to a new program.
 

A single payment for this course will be charged through PayPal when you sign up. Pay securely using your PayPal account balance or a major credit or debit card.
You DO NOT need a PayPal account to make payment. We do not have access to your PayPal account, banking, or credit card information.
The information presented in this Website is intended to be for educational purposes only. We are not providing any professional business, financial, or medical information, nor are we presenting you with a business opportunity or making any claims as to income you may earn.
[ Home Page | All Courses | Category | Back To Top ]