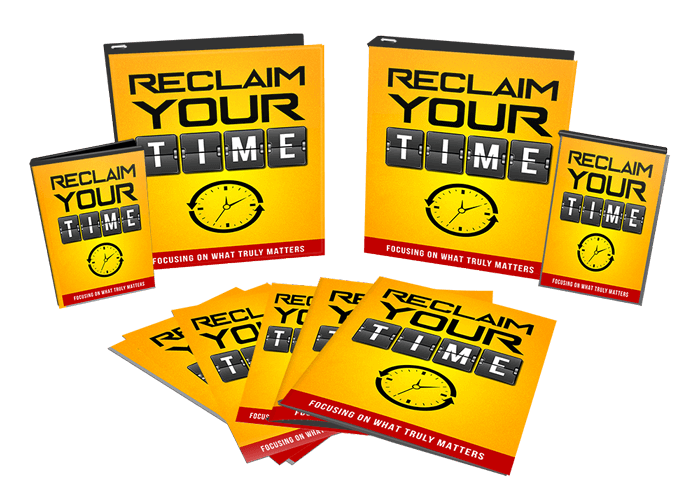 Reclaim Your Time
If you are interested in this course, you are undoubtedly trying to become more productive by managing your time better. Let this training course show you how to manage your self and manage your use of time in ways you never thought you could.
Learn How To DOUBLE Your Productivity
With These Simple & Effective Strategies
So you can experience exponential income growth
and get more things done quickly with less efforts.
You're about to discover the time-management formula that will double your productivity, manage your time better, and accomplish more than you could ever imagine.
Imagine if you could:
Reduce the time taken to complete work that will usually take 4 hours in just an hour...
Complete more tasks in a day that would usually take 3 days for other people...
Have more FREE time in the day because you know how to complete your tasks quickly.
Truth:
Everybody has 24 hours a day!
Nothing more and nothing less. An hour will always be 60 minutes, and a day will have 24 hours. That is the universal rule that can't be changed. And remove 8 hours of sleeping, you only have 16 hours left in a day.
So, how does the group of highly successful billionaires such as Warren Buffet, Bill Gates, Mark Zuckerberg and Jeff Bezos achieve so much more in a day than others?
What really separates the world's top achiever and highly successful people is that they know how to manage their time better even though there's only 24 hours in a day.
And here's your golden opportunity to upgrade your life to the next level.
Introducing ...
Reclaim Your Time
How To Create More Time For Yourself And DOMINATE!
Regular Price: $19.97


Lifetime Membership Included With First Course Purchase
Special Pricing & Other Bonuses Included With Membership
Existing members please login before subscribing to a new program.
 

A single payment for this course will be charged through PayPal when you sign up. Pay securely using your PayPal account balance or a major credit or debit card.
You DO NOT need a PayPal account to make payment. We do not have access to your PayPal account, banking, or credit card information.
The information presented in this Website is intended to be for educational purposes only. We are not providing any professional business, financial, or medical information, nor are we presenting you with a business opportunity or making any claims as to income you may earn.
[ Home Page | All Courses | Category | Back To Top ]